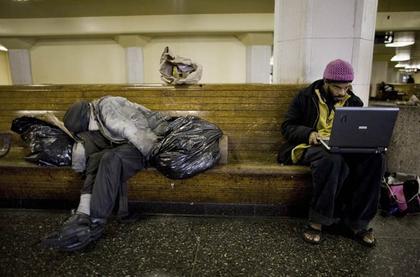 I recently read this post on Boing Boing that really got me thinking. The post was referencing an article about the homeless and the Internet from the Wall Street Journal. The gist of the article, is that technology, and more specifically the Internet, has permeated society to such a degree that even those most alienated from it have started using it as part of their daily lives. They use it to check e-mail, blog, look for work, chat with friends, update their Facebook, Twitter, etc. In other words, it has become as much a part of their basic existence as it is for everyone else at all other levels of the social strata. The feared "digital divide" (the idea that as society becomes more dependent on technology, those least able to afford it would become more and more cut off from the mainstream) has not come to pass but has actually granted an unprecedented level of equality and opportunity to those who need it the most.

Now the Boing Boing poster made a prediction, that within 5 years the UN will deem network access a "basic human right." This idea intrigues me for several reasons. First of all, I was not aware that the UN deemed anything "nonessential" as a human right, but things such as free speech, education, and privacy are considered human rights. It also made me think about the Internet and how it has become a huge part of our lives. We do our banking online, pay our bills, look for work, talk to friends and family, download music and videos, get the latest news, and even watch TV. It's become so ingrained into the fabric of society, that not having access to it for any prolonged period would be devastating; the modern day equivalent of solitary confinement.

It's true that at a basic level, nobody needs Internet access (or a computer, or an iPhone, or anything like that) to survive. Food, water, shelter; those are survival essentials and rightfully are basic human rights. But humans are not just about survival. We're about collaborating, communicating, creating, conducting commerce, and other words that seem to start with "c". We've been doing this for thousands of years, just never with such a wealth of information so easily available, or communication so fast and widespread. Information is power, and with so much information freely available it means that almost anyone can connect and learn and grow.

I find the fact that a homeless man in New York can talk to a university professor in Los Angeles, or a lawyer in London, or a writer in Buenos Aries (setting aside language barriers of course) to be one of the most amazing things about the net. Sure they might be talking about their favorite LOL Cat, or just Tweeting what kind of sandwich they're currently enjoying, but in the past there was no way for you to talk to anyone outside a small circle of friends and acquaintances. Radio and television allowed almost instance communication to the masses and the telephone allowed live conversation to take place across the world, but those communication systems are either limited in scope or exclusive, and the net levels the playing field considerably. When you are online, you are the same as everyone else. You can have a blog, you can post in a forum, you can display your art, you can apply for a job, you can research a paper; the possibilities are endless. And none of it is closed off to you because you live in a shelter, or you don't wear the right clothes, or have the right number of 0's at the end of your paycheck.

I don't think it will happen in 5 years. I hope it does, because the rise of the netbook and the success of programs like One Laptop Per Child have made it clear that access to something that is fast becoming a fundamental part of modern society should be available to all. And I agree with the poster on Boing Boing, one day we will look back and wonder how we ever thought that it wasn't a fundamental right of every human being. So what do you think?